My name is Henrik and I am a Digital Art Director and Graphic Designer who lives and works in Denmark.
For more than 15 year's I have designed, created and conceptualized from A-Z for small startups, big international corporations and anything in between.  I deliver integrated digital, print and brand experiences across all channels, driving revenue, conversion and engagement.
The 3 strongest assets I have are: Curiosity, Desire & Imagination.
In most projects, whether it is an advertisement, a graphics design or video animation I ask a lot of "why" questions and by asking these questions I believe that right there in the answers are the key to ignite a great creative concept that makes an insightful solution. I help transform perceptions and create real cultural and business changes for small and big companies
My focus is on building mutually beneficial relationships between brands and people.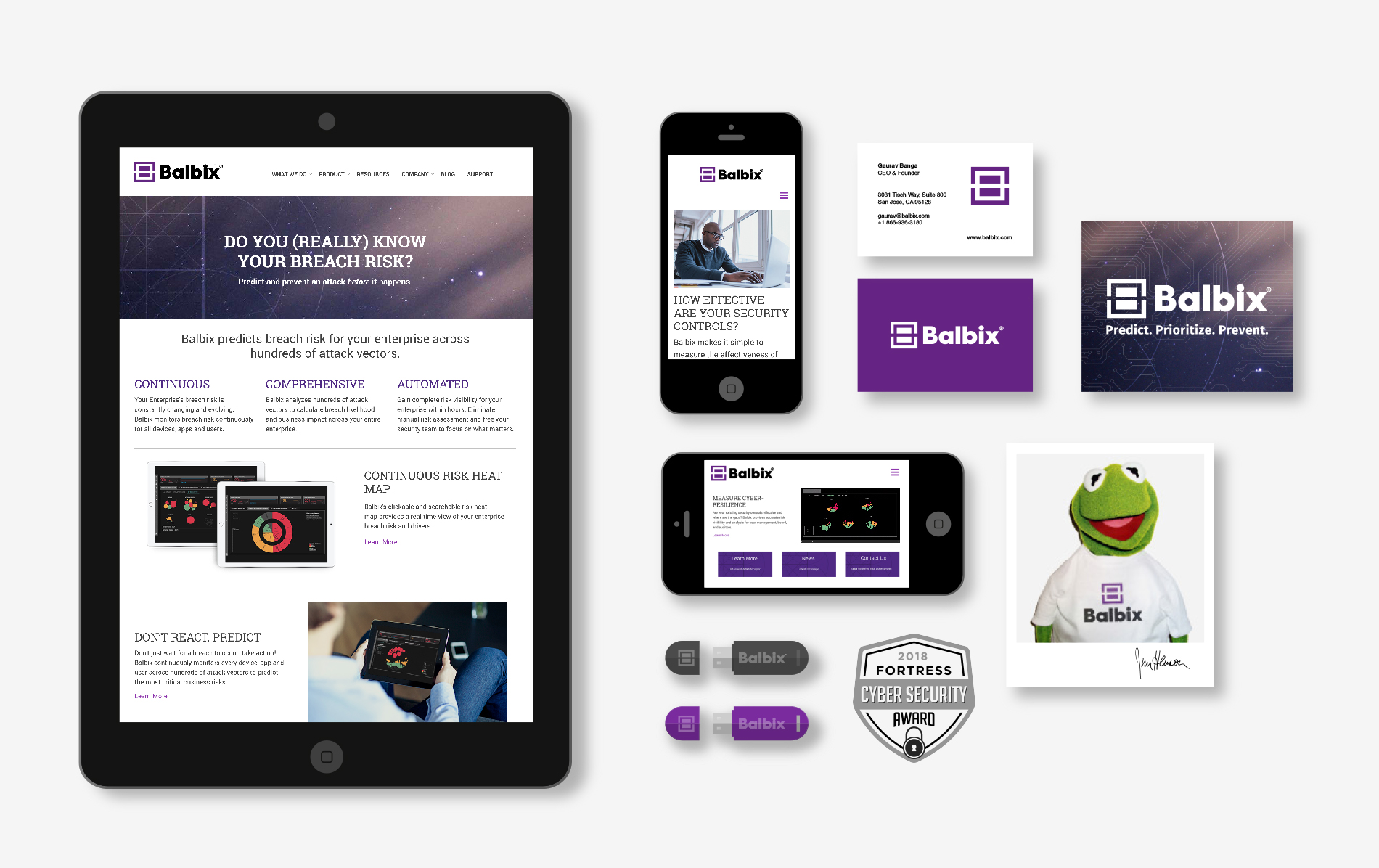 Logo, Graphics Design, UX Design and Business Cards for Balbix®
Client: Balbix® makes software that prevents and predicts cyberattacks.
Challenge: Corporate Identity and Graphics Design that works across media.
Process: Identifying the core values of the company in cooperation with the CEO and the international marketing team – and how that can be shown by using graphics elements, colors and pictures.
Solution: A scalable logo and design, inspiration for the icon comes from the ancient greek word "balbis" meaning a rope between two posts used to indicate the start and finish of a race straight line terminated by a secondary line at each end, resembling the letter H.
Media: Online & Print.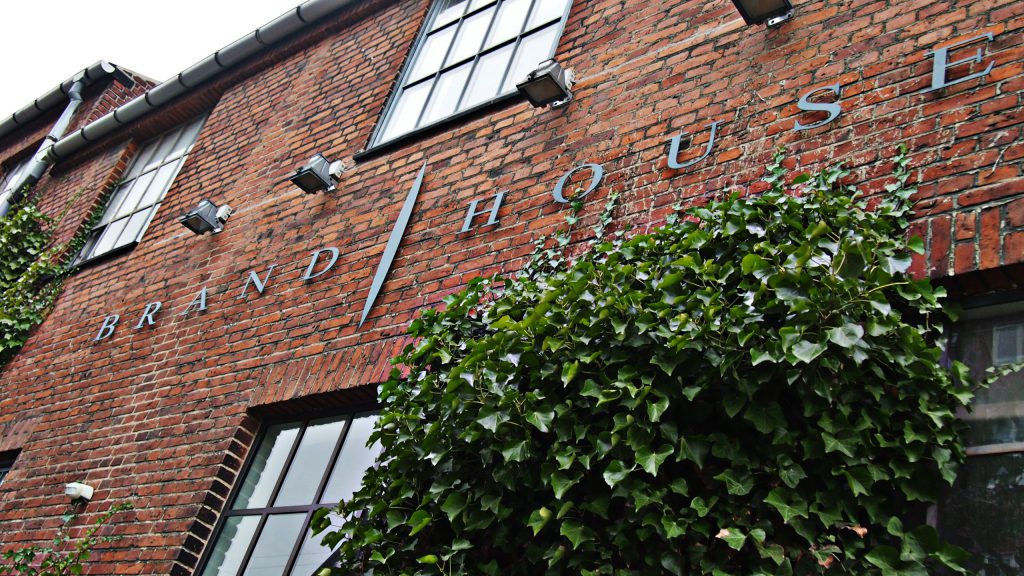 Logo design for Brandhouse®
Client: Brandhouse® is a customer centric communication and consulting house, with local and Nordic clients.
Challenge: Redesign of logo for Brandhouse®
Process: Testing various fonts and shapes, a thorough research of the competitions logos both local, national & international.
Solution: A custom version of Times New Roman, keeping the eclipse from the old logo as a frontier between Brand & House.
Media: Signs, Stationary, Business cards, Website.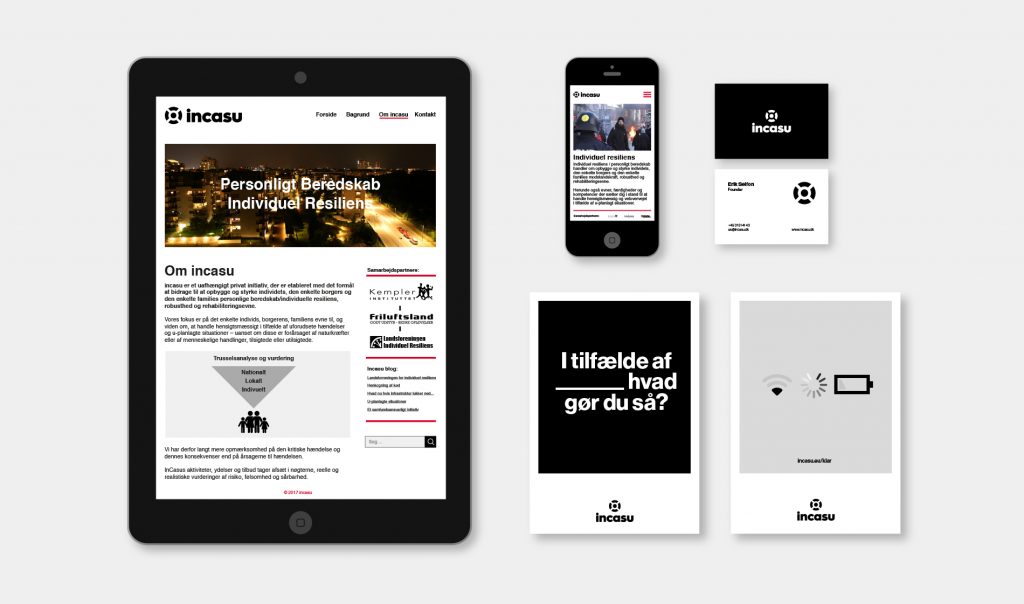 Responsive Website Design, Logo & Business cards for incasu.
Client: Incasu is an independent initiative aiming to teach, train and guide individuals to become more resilient in case of emergencies or unforeseen situations in today's vulnerable society.
Challenge: New logo, UX Design and a graphics identity that works across media.
Process: Interview with the managing director and extensive field research. Analysis and comparison with similar initiatives.
Solution: A strong word mark with a supporting icon that symbolizes focus, strength and direction taking inspiration from foresight precision and Danish viking fortresses like Trelleborg. The 4 arcs in the icon represent Skill, Material, Mental and Social resilience. The circle in the middle symbolizes what we care about and protect.
Media: Online & Print.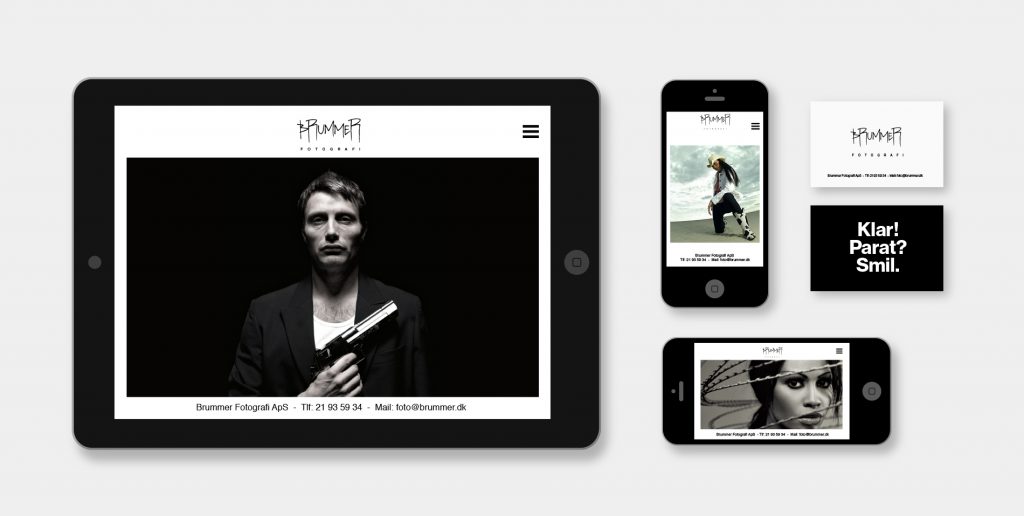 Responsive Website Design and Business cards for Brummer photography
Client:  Mark Brummer is an independent commercial / fashion photographer, with clients from all over the world.
Challenge: UX design and business cards.
Process: Identifying what professional people are focused on when they are looking for a photographer for their next project and understanding from what device they visit the website.
Solution: Simplify the website experience and navigation, with a focus on large pictures on desktop and tablet version. And instead of scaled down, small pictures, cropped versions of details are shown on smartphones.
Media: Online & Print.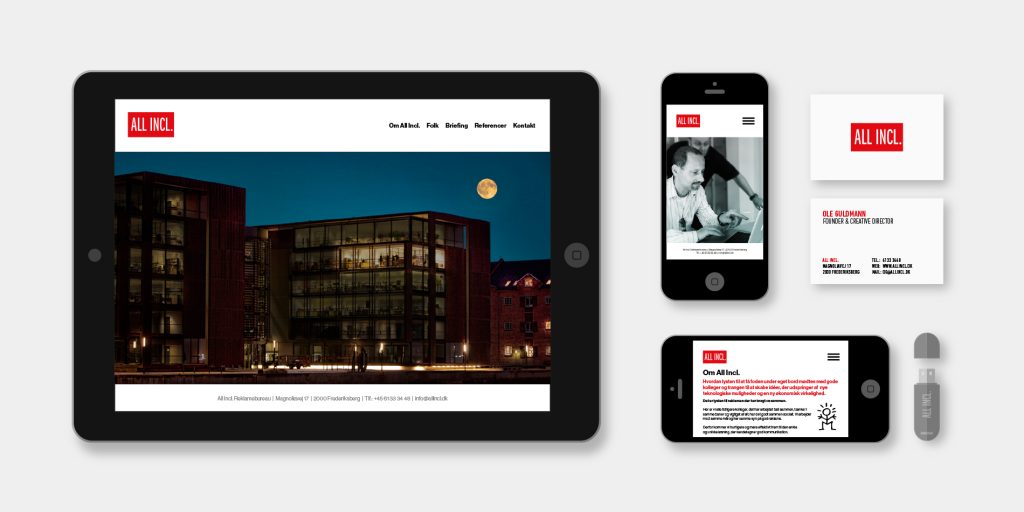 Responsive Website Design, Logo and Business cards for All Incl. Reklamebureau
Client: All Incl. is a collaboration between former colleges that joined forces to form an independent ad agency.
Challenge: Identity and website design.
Process: Identifying and combining individual values to produce an unanimously design and communication platform.​
Solution: Website with a minimalist Nordic look, meticulous info copy – and small stick men for a playful impression.
Media: Online & Print.

Icons for The Noun project:
Client: The Noun Project is a website that aggregates and catalogs symbols that are created and uploaded by designers around the world.
Challenge: Graphic icons for modern communication that work even at the smallest size on tablets and smartphones.
Process: Looking for and studying early 1990's computer graphics interfaces and menus and "translating" them into modern use.
Solution: Pixel style graphics icons designed with vector graphics.
Media: Online.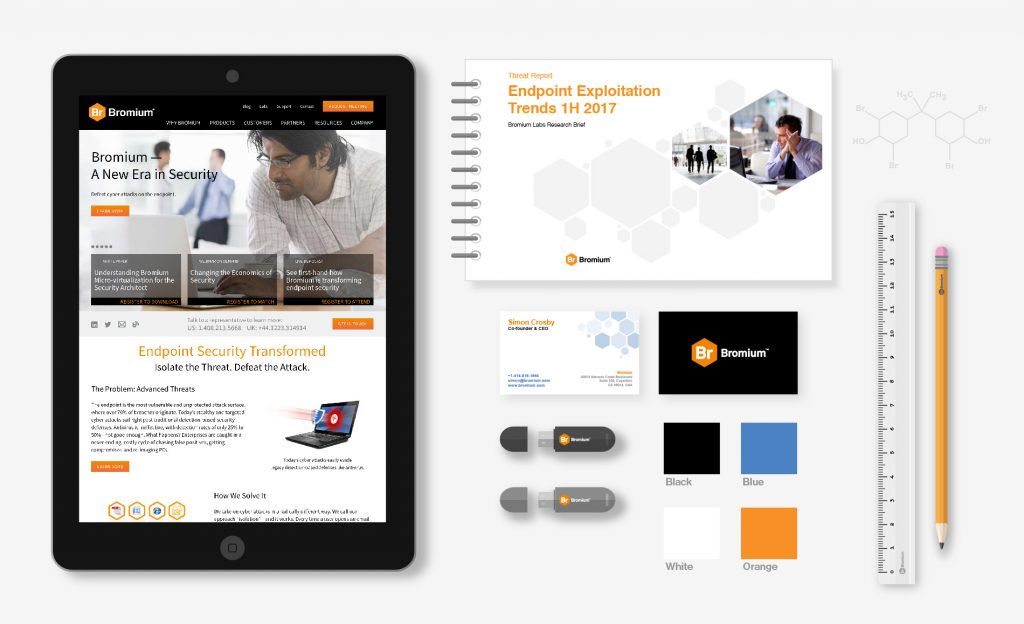 Corporate identity & Graphics Design for Bromium
Client: Bromium is a venture capital–backed startup based in California, that works with virtualization technology.
Challenge: Design a new logo and a flexible graphics identity for a company that needs to stand out in the crowded security software market. Bromium  builds virtualization-based security software that isolates threats and protects Fortune 500 companies as well as several US and EU government agencies against hacker attacks.
Process: A series of interviews with the technical team at Bromium and understanding what virtualization technology is and how the end users and client will benefit from it.
Solution: Hexagon shaped icon and word mark. The inspiration is the resilient structure of a beehive, where many smaller cells contribute to a stronger whole, similar to how many small virtual machines are the foundation of Bromium's resilient security technology.
Media: Stationary, Business cards, Webdesign, Social Media.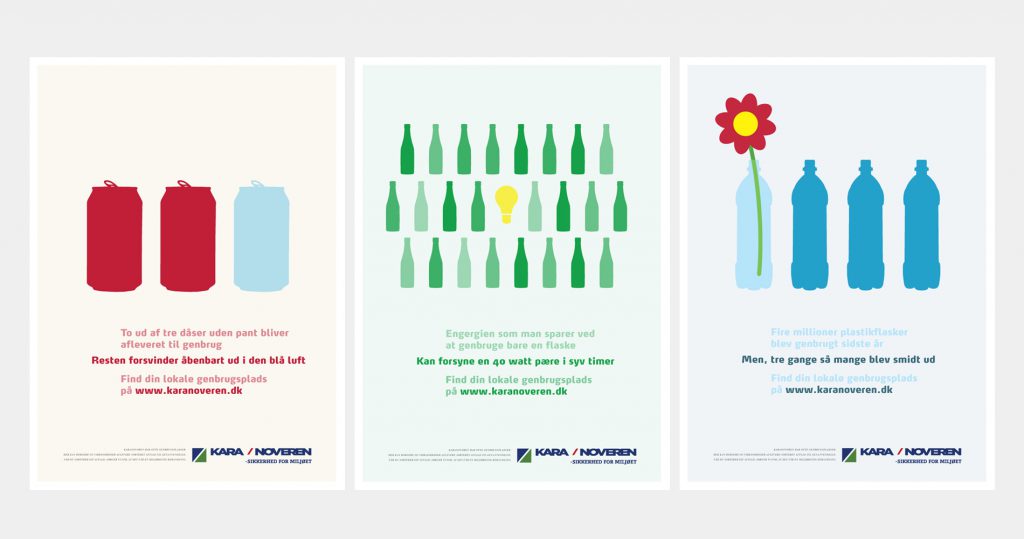 Art Direction & Illustrations for KARA / Noveren
Client: KARA/NOVEREN is a waste management company in Roskilde.
Challenge: To inform local residents about the many recycling options in the town of Roskilde, both offline and online.
Process: Interviewing local residents about their knowledge and opinions about the recycle options in Roskilde and understanding what the individual reasons are for participating in recycling.
Solution: Friendly, playful and nudging communication with simple illustrations to support the statements.
Media: Prints, Outdoor & Website.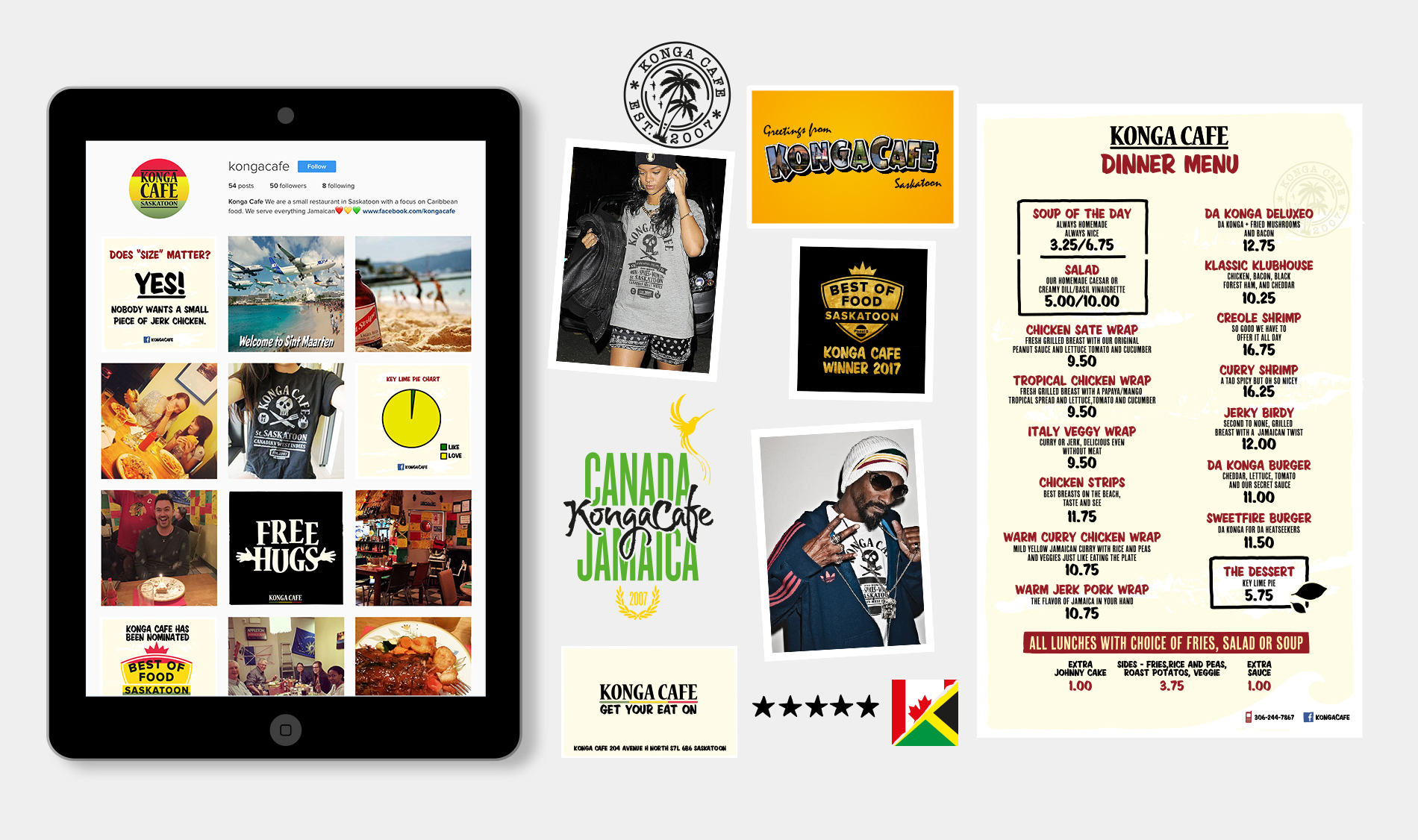 Social Media, Graphics & T-Shirt Designs for Konga Cafe
Client: Konga Café in Saskatoon Canada serves genuine Jamaican food in a lively, cosy atmosphere. Visited by locals, foodies and
international music stars when performing in the city.
Challenge: Show that Jamaican food and family fun are very much alive in Saskatoon.
Process: In close interaction with the staff, weekly pictures are taken of the customers eating and enjoying themselves in the cafe and
mixed with funny graphics posts.
Solution: A lively instragram profile with pics of Jamaican food and happy customers. Also, humorous shareable posts.
Media: Instagram, T-shirt prints, Signs, Menu designs, Business cards.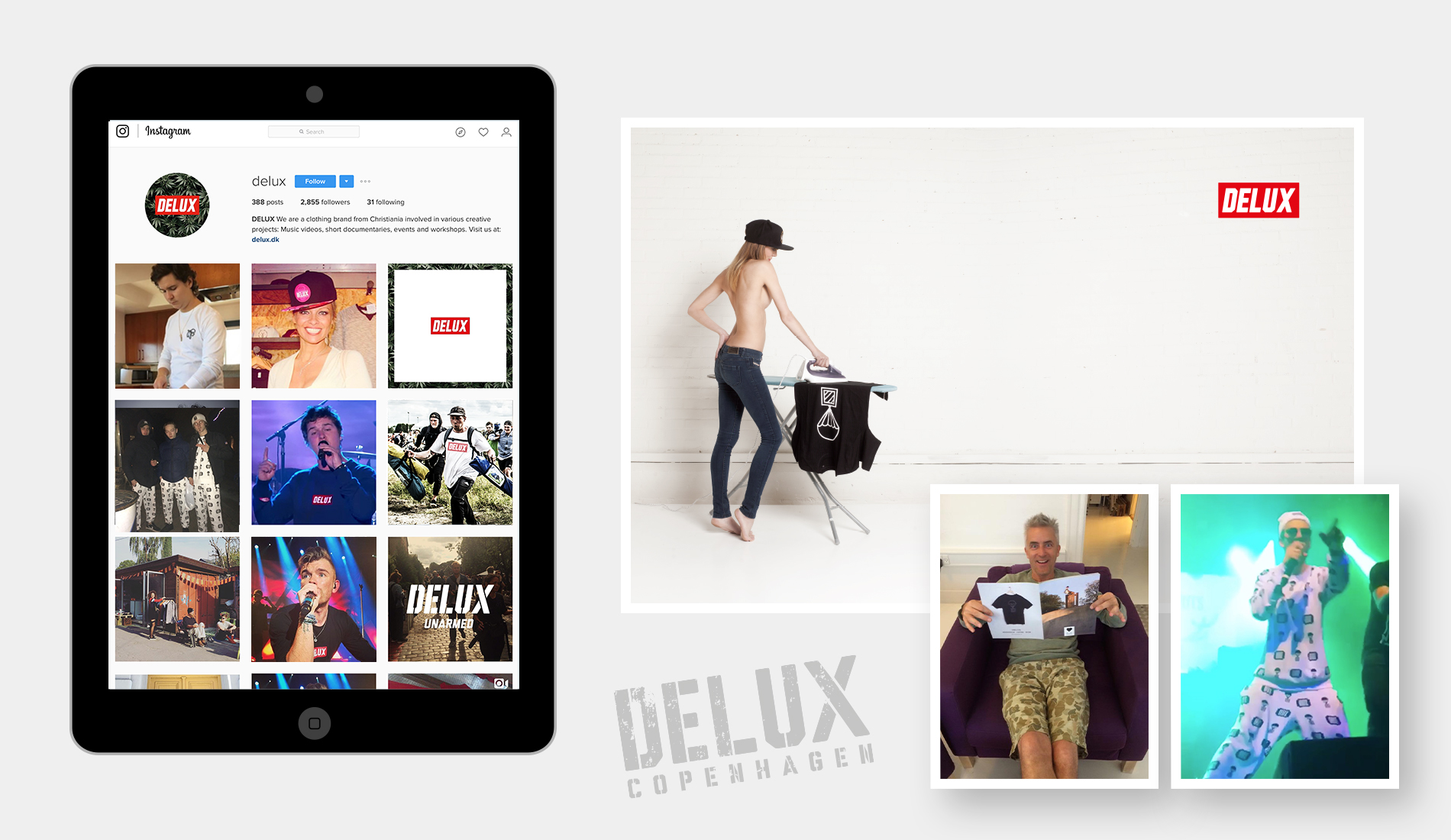 Social Media, Apparel Design & Graphics for Delux.
Client: Delux is a fresh new clothing brand with roots in freetown Christiania.
Challenge: To show that Delux is not just another clothing brand.
Process: Direct contact with the customers through the shop, events and social media to find out where the current trend is heading and what is required to stay relevant for the target group.
Solution: An Instagram profile showing people wearing Delux (from the unknown to the very well know Lukas Graham).Also, pictures from events relevant to the target group – and print ad in a skate magazine.
Media: Outdoor and Magazine.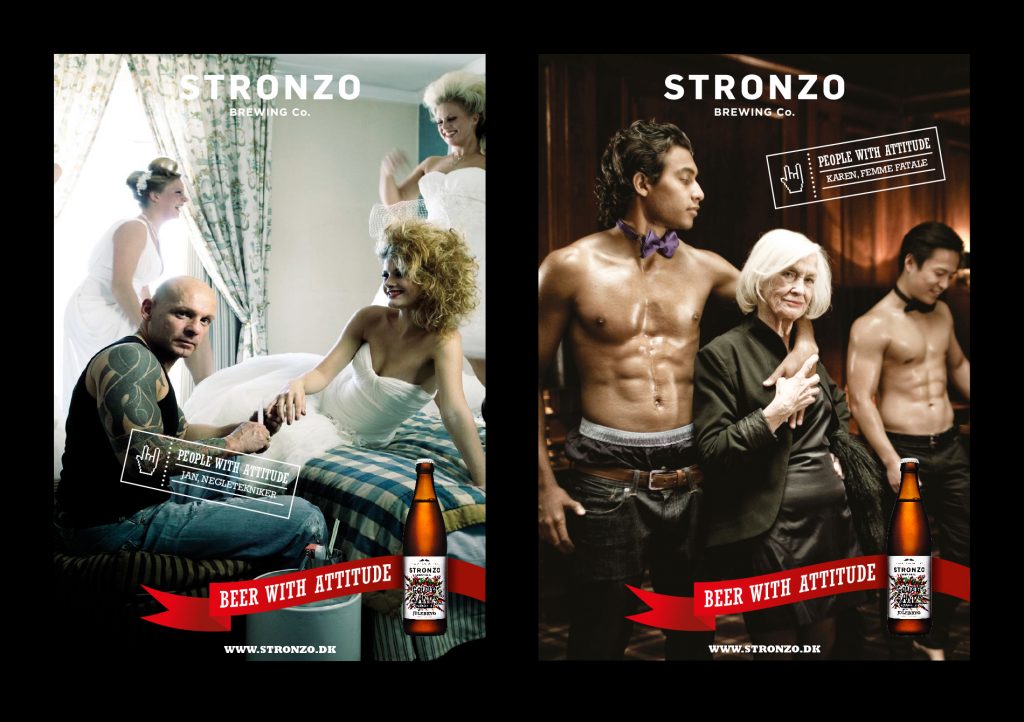 Graphics for Stronzo Brewing Co.
Client: Stronzo Brewing Co. is a Danish microbrewery. They produce creative and innovative beer.
Challenge: Introduce a new beer label in Denmark.
Process: Finding interesting places and casting extraordinary people that automatically and authentic signal the brand values.
Solution: Show extraordinary people in extraordinary situations to signal that Stronzo beer is not an average beer.
Media: Outdoor and Magazine.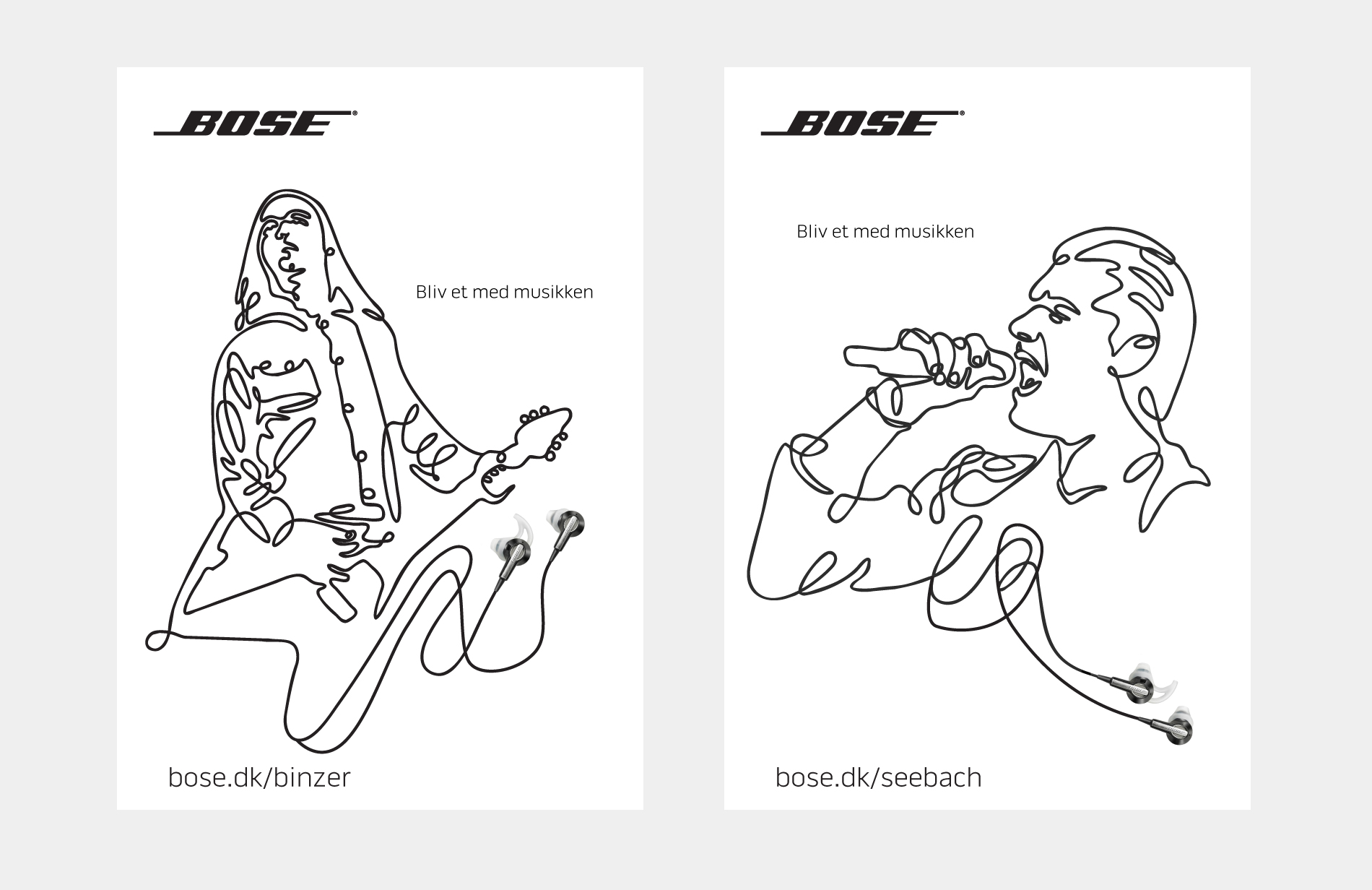 Art Direction for BOSE® Danmark (Binzer/Seebach Pitch med Daniel Jørgsen & Peter Molina)
Client: Bose® Denmark is a chain retailer with audio equipment & accessories such as speakers & headphones.
Challenge: A creative pitch to Bose® Denmark. The idea is to link famous Danish musicians Jesper Binzer and Rasmus Seebach with the Bose® brand by only showing the product. This symbolizes the sense of being one with the music because of Bose's noise canceling feature.
Process: Figuring out how to use famous people endorsing the Bose® product (without using them directly) thereby sparking the imagination of the costumer.
Solution: Illustrations made of the cord line of the earplugs of famous Danish musicians, showing you becoming one with the musician and their music.
Media: Instore posters.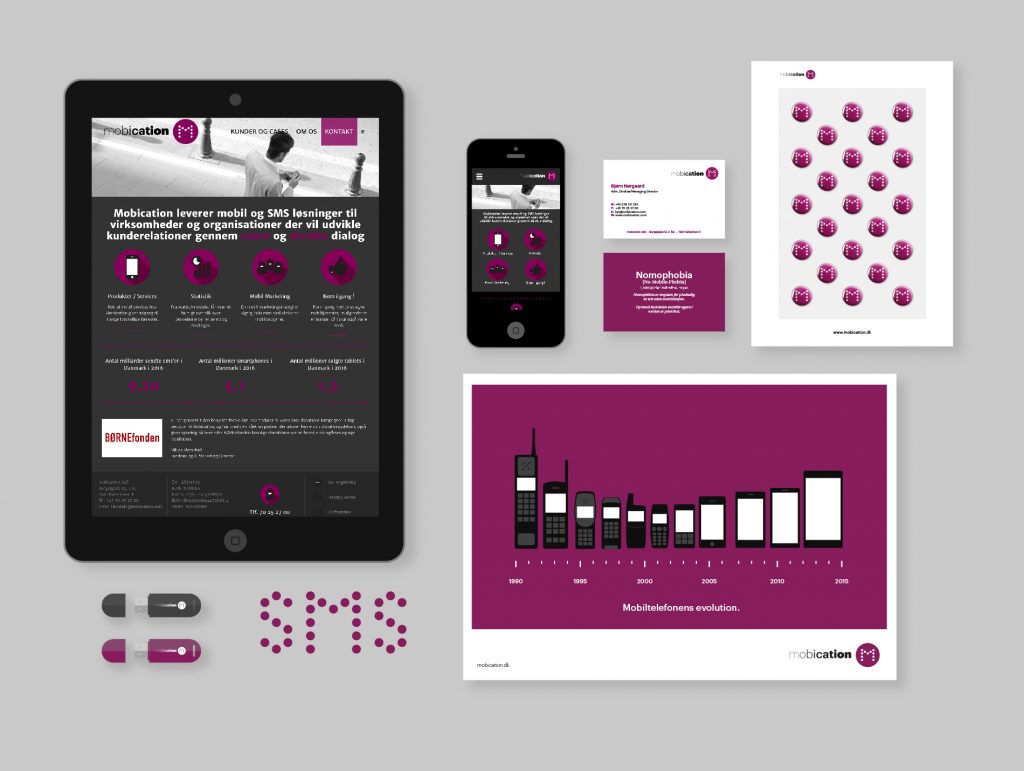 Responsive Website Design, Logo, Posters & Business Cards for Mobication
Client: Mobication develops mobile and SMS services for companies and organizations that want to be in direct dialogue with their customers.
Challenge: Graphics identity, SoMe graphics & design that works across media.
Process: Together with the team identifying the values of the company and how that can be shown by using graphics, colors and pictures.
Solution: A scalable logo and design. The inspiration for the "M" icon comes from the morse code graphics, and a classic color palette mixed with black and white photography signals stability.
Media: Online & Print.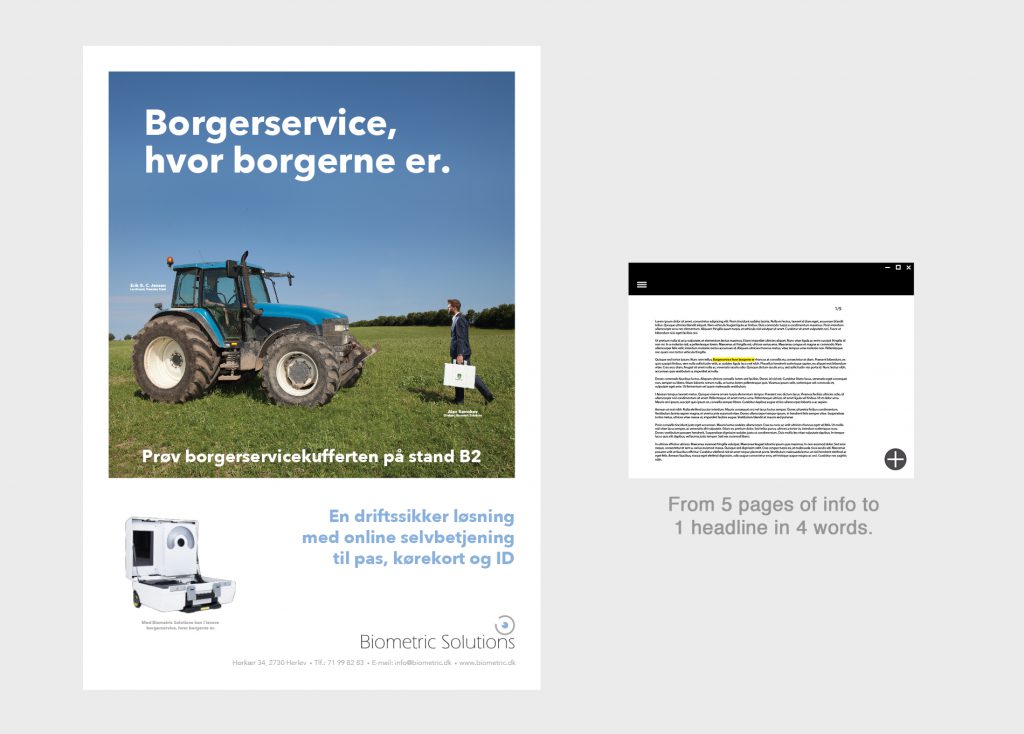 Art Direction for Biometrics Solutions (via Kemp & Kjær)

Client: Biometrics® delivers complete biometrics solutions to the Danish municipalities who can then provide digital and personal citizen service with a human angle, based on systems that are well thought out and tested.
Challenge: To announce that Biometrics Solutions are going to be showing their new mobile Borgerservice — a device that is able to take photos and fingerprints for passports — at the national convention for communes.
Process: Together with the PR team I worked to find an unusual location, setting, farmer and tractor – to show the new mobile Borger Service suitcase out in the field.
Solution: Showing the Director of Biometrics Solution out in the field testing the Mobile Borgersevice.
Media: Magazine, Posters and online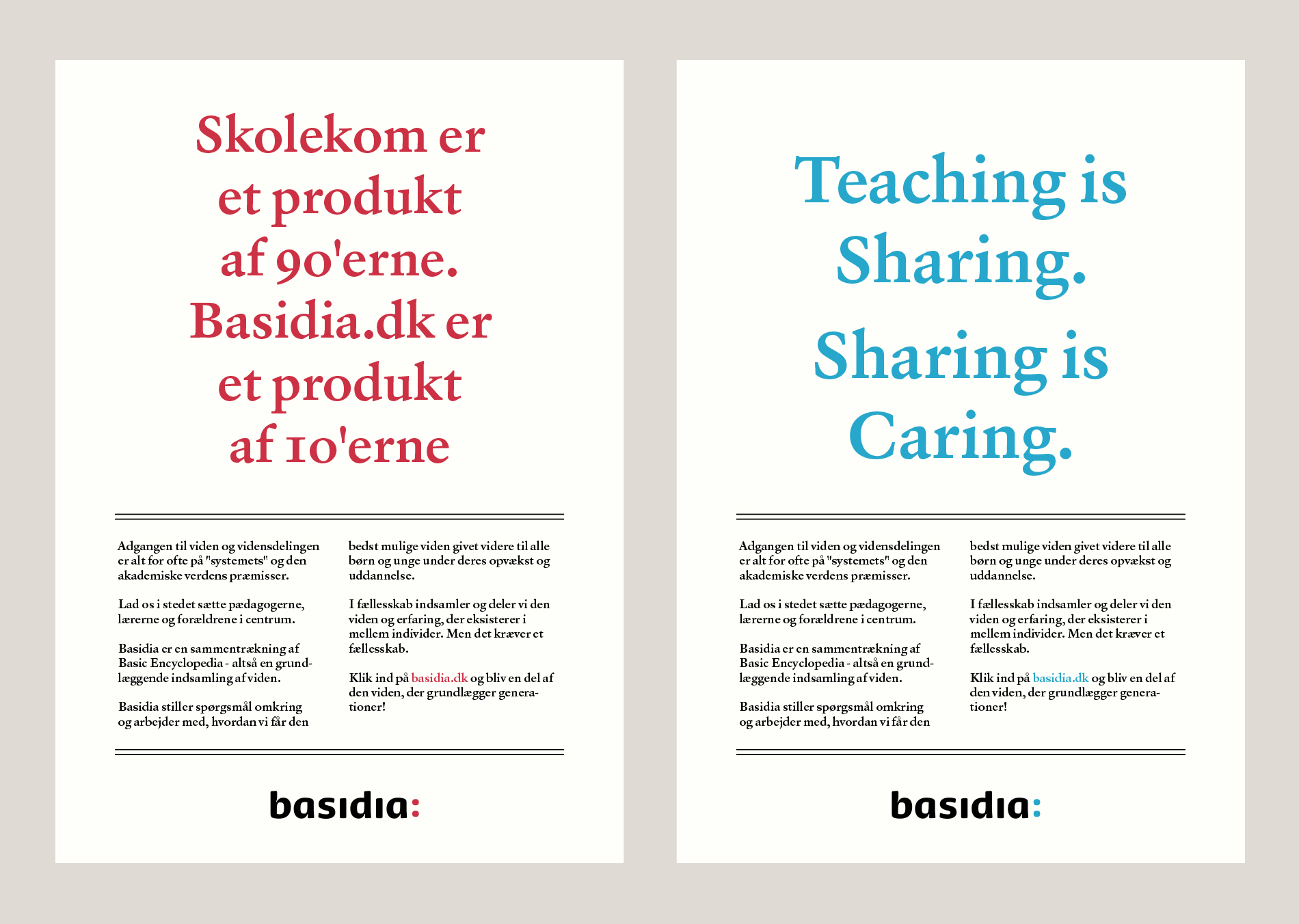 Art Direction & Graphic Design for Basidia
Client: Basidia is the vision of making it easier for teachers, people, projects and organizations that affect children and young people's upbringing and education to share knowledge, ideas and materials with each other on a national level.
Challenge: Inform schoolteachers of a new open source platform for teachers and students, and to get them to join and create shareable knowledge and resources for everyone.
Process: Interview with teachers and organization staff members to understand how their point of view on the subject of sharing, how it is today and what they would like in the future.
Solution: Two text-based ads with "provocative headlines" and text with info about the new open platform for sharing.
Media: Posters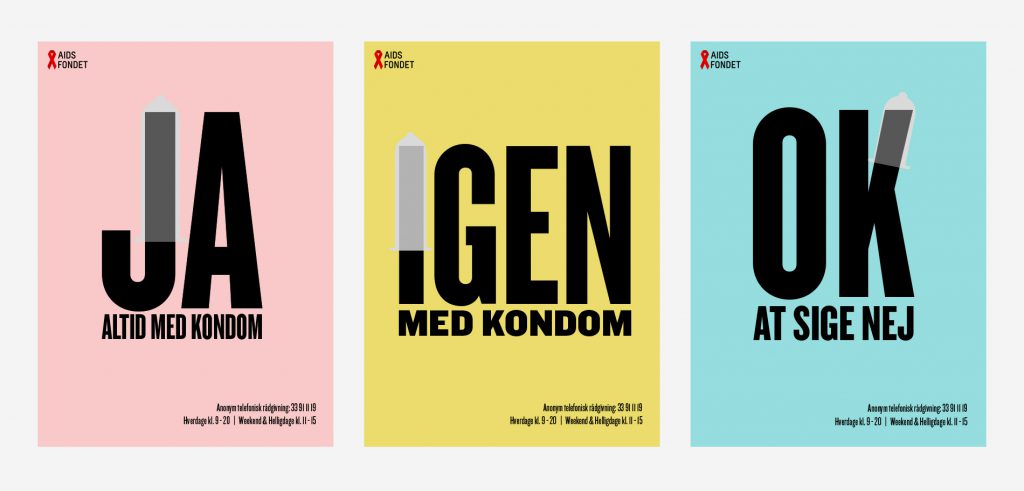 Art Direction & Illustrations for AIDS Fondet
Client: AIDS Foundation works with HIV and AIDS and related areas, both nationally and internationally.
Challenge: HIV is a disease that is easily transmitted by having unprotected sex. Since contracting HIV is no longer a death sentence, recent numbers show an increase in cases in young Danish men.
Process: Interviews with young Danish men about their knowledge, and thoughts about HIV and AIDS and understanding what they actually know about unprotected sex.
Solution: Typographic illustrations with a condom over one of the letters to communicate that sex should be practiced safely, and that it is okay to say no to unsafe sex.
Media: Posters.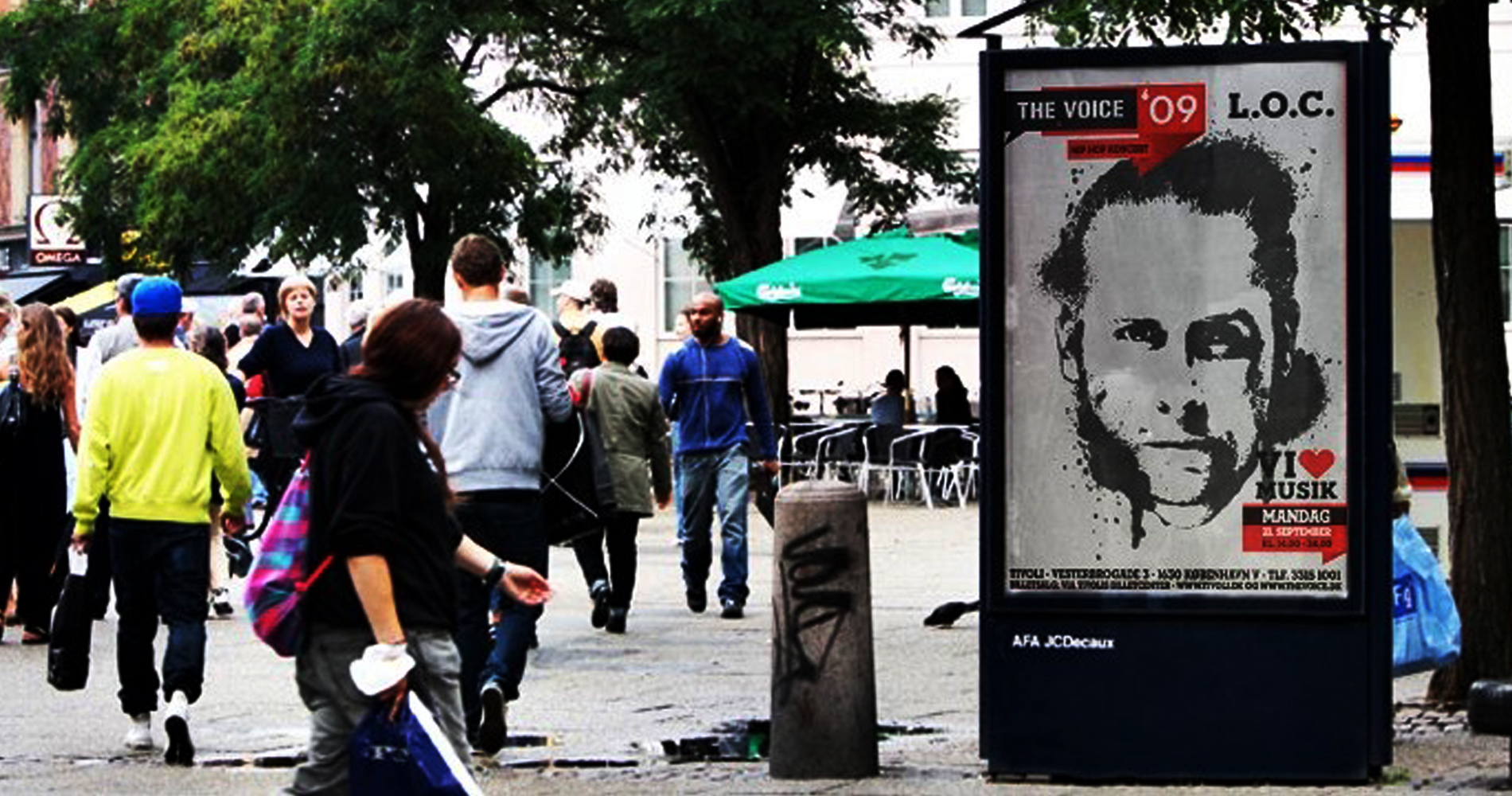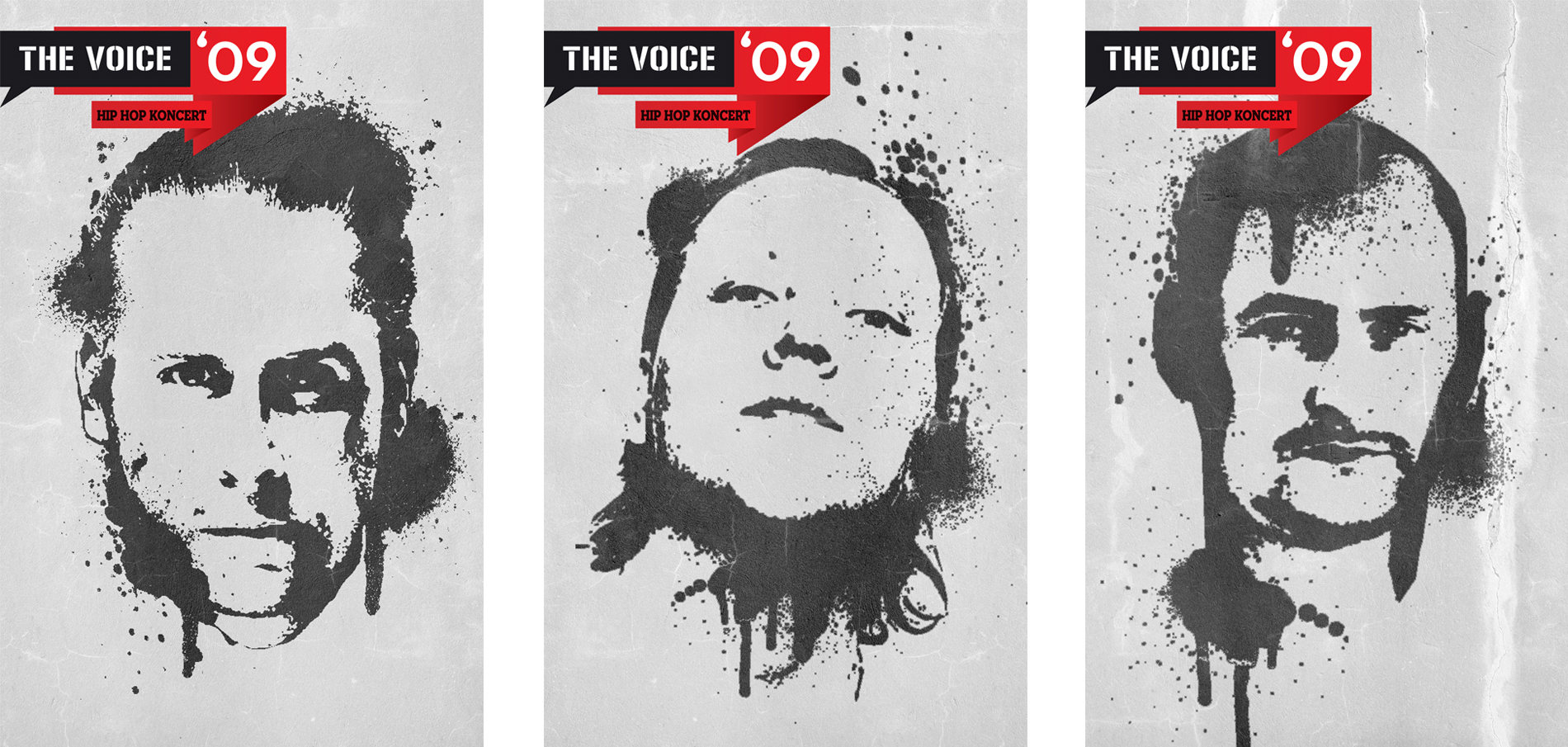 Illustrations & Graphic Design for The Voice
Client: The voice is a Danish radio channel for young people that plays the latest and most popular music.
Challenge: Design a contemporary poster for the annual music event hosted by Radio "The Voice" in the old Tivoli Gardens.
Process: Inspiration from the street art environment seemed like a natural fit for the artist headlining the show.
Solution: Turn pic of show star rappers into stencil graffiti-style images placed on edgy ​concrete background.
Media: Posters.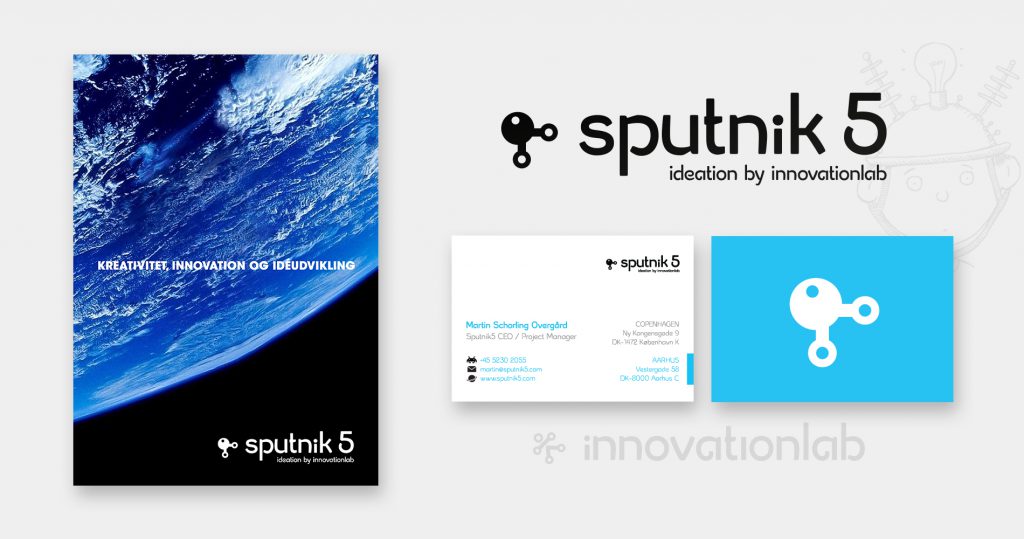 Logo and Graphics for Sputnik 5
Client: Sputnik 5 is a consulting firm that works with systematic creativity, innovation and development of ideas.
Challenge: Redesign of the Sputnik 5 logo to make it look and feel more cohesive with the co-owners at innovation lab.
Process: Interview with the original Sputnik 5 founding team and how they really wanted their company to be a part of
innovation lab in look, style and communication.
Solution: The name Sputnik 5 comes from the Soviet Satellite, so by combining a monoline style graphic of the "icon man" from the
innovation lab logo with a satellite, a new logo was made using innovations labs' own font.
Media: Stationary, Business cards, Web design, Social Media.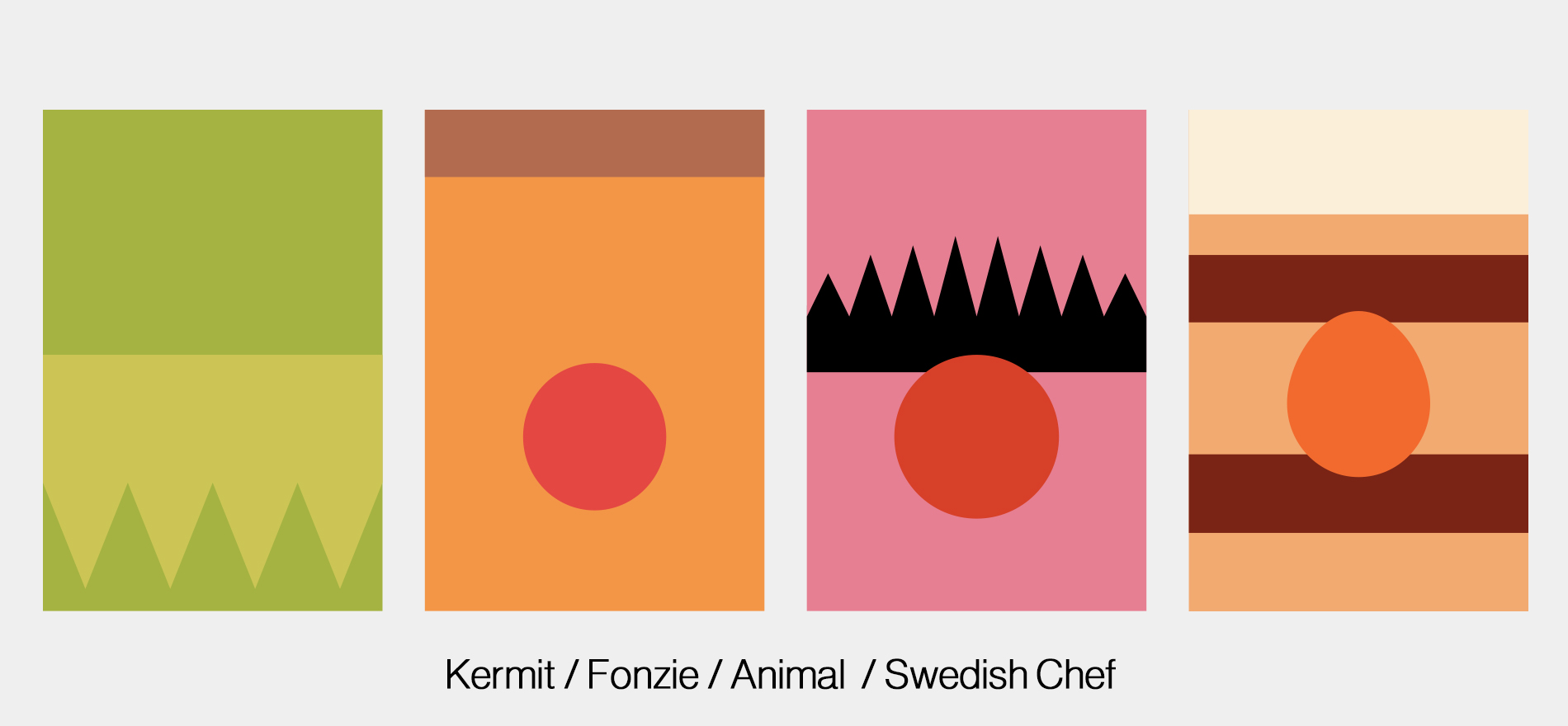 Illustrations for Local Theatre Show
Client: Small local theatre group
Challenge: Poster illustrations for local community theater performing an unauthorized version of The Muppet Show.
Process: Analyzing official​ marketing material and identifying the characteristic traits of individual Muppets.
Solution: Graphic simplification of characters from The Muppet Show to avoid copyright infringement.
Media: Social Media, Posters & Flyers.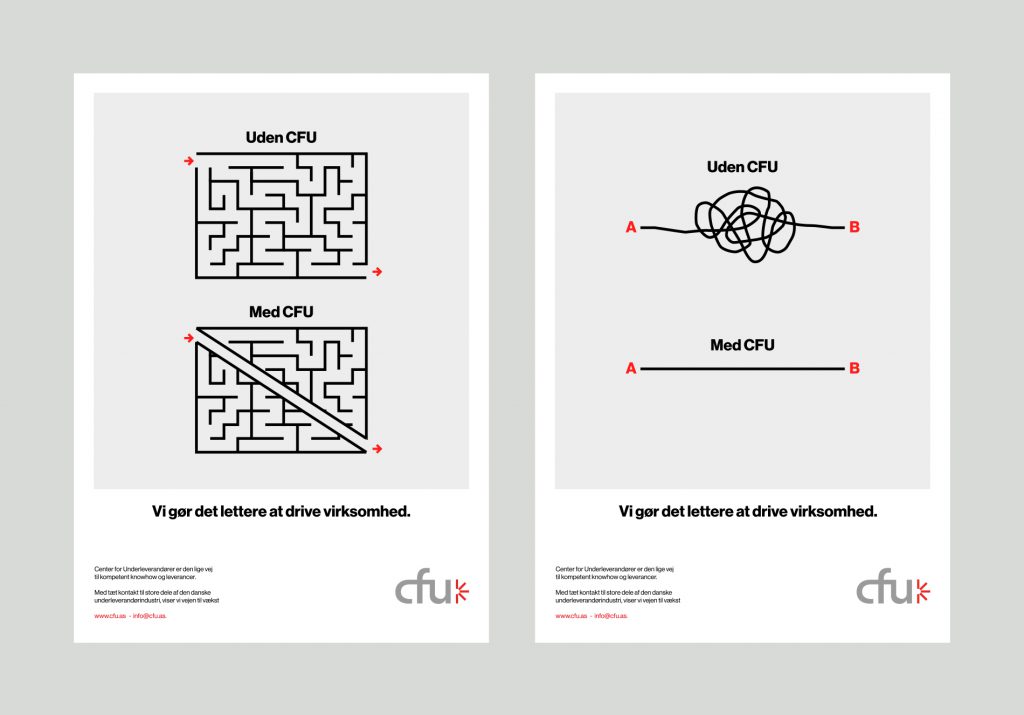 Art Direction & Illustrations for Center for Underleverandører
Client: CFU acts as the independent trigger that brings together companies looking for partners to solve specific problems.
Challenge: With close contacts to large parts of the Danish sub-supplier industry, Center for Underlevandører provides competent expertise and supplies to connect to the relevant industry.
Process: Identifying the strong points of CFU and design a concept that communicated that in simple illustrations
Solution: Monoline illustrations showing that organizing subcontracting without CFU is unnecessarily difficult, while demonstrating that CFU offers a more direct and faster way.
Media: Magazine ads and online.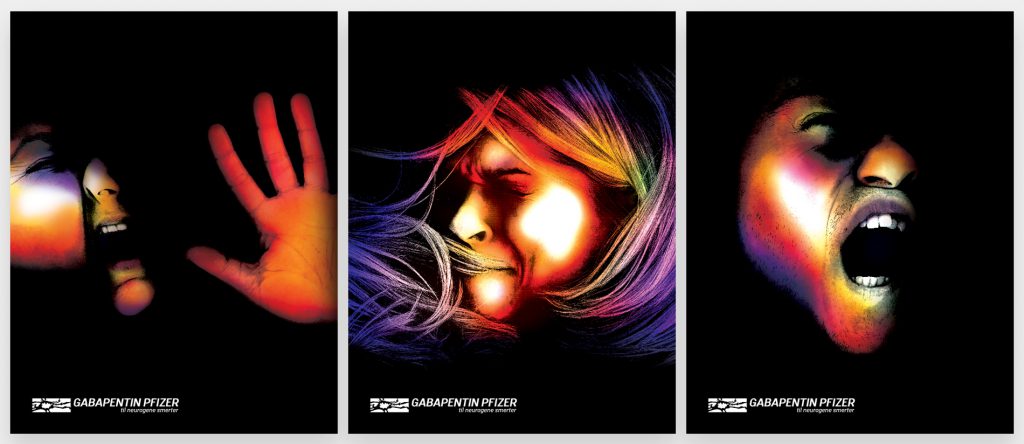 Photography & Logo design for Pfizer Gabapentin (now Neurontin)
Client: Pfizer Inc. is a global pharmaceutical corporation headquartered in New York City.
Challenge: Promotion of Gabapentin, a drug used primarily to treat seizures and neuropathic pain.
Process: Interview with doctors and (from the stories of the patients) describing how the pain feels like a burning sensation.
Solution: Faces pressed against a glass plate and colored to emphasize neuropathic pain.
Media: Ads, Posters, brochures & website graphics